Bath Accessories

Electrical

Faucet Repair

PSS Repair

Repair Kits, Washers, and Seats

Emco* Repair

Waltec* Repair

Delta* Repair

Crane* Repair

T&S* Repair

Moen* Repair

Valley* Repair

Sterling* Repair

Galt* Repair

Cuthbert* Repair

Wallaceburg* Rep.

Mixet* Rep.

Symmons* Rep.

Mueller* Rep.

Price Pfister* Rep.

Jameco* Rep.

American Standard* Rep.

Faucets

Fittings

Lead Free Brass Push-Fit

Copper

PEX

Cold Expansion

ABS

Compression

Garden Hose

Flare

Pipe Fittings
Hardware
Lock Sets

General Door Hardware

Screen & Window
Heat, Vent & Pump
Water Heater
Repair

Pump Repair
Plumbing Accessories
Plumbing Tools
Sink / Basin Repair
Toilet Repair
Tub & Shower Repair
Tub Spouts

Shower Heads

Accessories

Stoppers
Valves
Water Supply
Package Line
Welcome To Plumbers Specialty Supply On-Line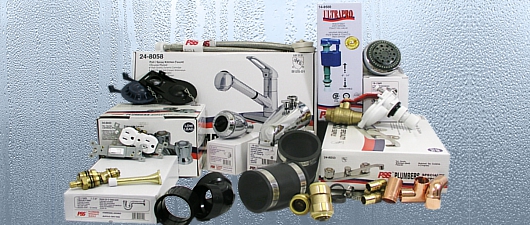 We are a wholesale distributor of high quality plumbing, hardware, heating, and electrical parts. Doing business coast-to-coast for over 40 Years. We enjoy a solid reputation based on fine quality merchandise, competitive pricing and superior service to our customers.
Along with our low prepaid delivery policy, next day in-stock shipping, and everyday wholesale prices, we GUARANTEE that we can save you money on your plumbing and hardware replacement part costs.
We welcome the opportunity to discuss with you, any present and future requirements you may have.
If you have any questions, or concerns, please feel free to contact our order desk at any of the numbers below.
| | |
| --- | --- |
| Toll-Free Canada / USA: | 1-800-387-4939 |
| Toll-Free Fax Canada / USA: | 1-800-465-4518 |
| Cambridge, Canada: | 519-624-4050 |
| Cambridge, Canada Fax: | 519-624-9680 |
| Toronto, Canada: | 416-622-4444 |
Click Here to Sign In.
---
You can now register for
an on-line account.
Click Here to register
---
Lead Free plumbing products now available.
Click here for details.
---
Show all new products
---
1) January 2021 Sales Flyer
CLICK HERE
---
2) April 2011 FULL LINE Catalog
CLICK HERE
---
© 2019 Plumbers Specialty Supply (v2.7.1) *All trademarks shown are to represent product compatibility only.
Terms of Use